Forbes recently dubbed 2022 as the "year of the employee" and we wholeheartedly agree. At SoFi, we are committed to creating an employee-first culture as well as creating tailored development opportunities that reflect the diverse experiences of our employees. As part of this, we are thrilled to be rolling out Season 3 of GROW, a mentorship program that seeks to inspire, empower, and elevate our underrepresented employees by fostering professional relationships. GROW stands for - Get your mentorship right, Reiterate your SMART goals, Optimize your time, and Work collaboratively
GROW matches future leaders at SoFi with a mentor to receive real-time, active coaching, key business knowledge, and advocacy in support of their professional journey. This third season follows a successful 2021, where 12 mentees were promoted, leading to an increase in representation within our Senior Leadership Group, and over 83% of mentees said they feel they are continuing to learn and develop in their roles.
We sat down with mentee - mentor pair Kelzey Jessup and AJ Smith to learn why they wanted to be a part of GROW, and what they've gotten out of the program so far.
Why did you want to participate in GROW?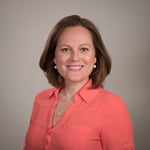 AJ: I jump at any chance I get to meet new people at SoFi and gain a better understanding of their roles at the company. I like hearing about a variety of job functions and how other people are navigating their careers. Plus, I have had a non-traditional career path and I think it's important to share that with others early in their career.

Kelzey: Grow is a great opportunity for us to get exposure to leaders outside of our department. Why wouldn't I want to take advantage of this great opportunity?! I believe everyone is able to teach me something, and it's my job to listen.
What is one thing that has surprised you about each other?
AJ: Kelzey is really prepared. He sends topics and questions along with our meeting invites. I was a little worried at first that this wouldn't go well with my generally more relaxed and loose style, but it's been a really amazing way to keep a structure while also letting the conversations flow during the meetings. It's been helpful as we both get a chance to think about them ahead of time, so I find I'm getting a lot more out of our meetings.
Kelzey: AJ is so welcoming! I thought talking to a complete stranger would be terrifying, but every time I jump on a call with AJ, it feels like I am talking to a friend.
What's been your most memorable conversation so far?
AJ: We've focused on creativity, leadership, and select projects so far. I liked talking about leadership, because Kelzey challenged me to really consider and share ways to showcase leadership before you have a more senior role.
Kelzey: Where do I begin? AJ has completely opened my eyes to new ways to look at leadership, project management, and creativity. I was worried that her expertise would go on deaf ears because we are in two different worlds (she's in content marketing, I'm in recruitment). However, everything she has taught me is so applicable to my professional (and personal!) growth.
How has this experience pushed you to grow?
AJ: Every meeting is a chance to reflect and refocus my actions to match my values. I look forward to our meetings and time with Kelzey!
Kelzey: My goal was to be prepared for every meeting with AJ, and this pushed me to do some research. I felt like I was a news reporter trying to get the newest scoop every time we met. I had at least 12 tabs open at one time trying to find questions to ask that applied to both our worlds so I could get the most out of this experience as possible.
Do you have an example you could share with us?
Kelzey: A great example is: AJ is Head of Content, and I was thinking, how does content affect my life? Where is the overlap? I run a program that coordinates all of HR to engage in team activities such as step challenges, scavenger hunts, game nights, etc. Then it clicked, I am developing content for a targeted audience. AJ has so much great feedback to give on this topic, like how people come back to familiar things, and how to know what information your target audience wants. Are you answering their questions in engaging ways? I loved being able to find the overlap between our roles and responsibilities!
What aspirations do you have for your career?
AJ: I hope to continue to educate and inform people in ways that can positively impact their lives and help them feel confident as they make financial decisions for their families.
(Readers - you can see all of AJ and team's work by checking out our SoFi blog.)
Kelzey: I want to be an expert in my field (supervisor in recruiting coordinating). I want to be able to be a trusted partner to those in need who I may impact or influence in my work. I want to push myself to go above and beyond and soak up as much knowledge from my peers and leaders as possible. I hope to one day be in a position such as AJ and be able to pass on that knowledge to others!
Thanks for sharing your experience with us. If you'd like to get to know another GROW pair, meet Krupa and Vinicus!
Plus, we're hiring those who are inspired to help others, share knowledge, learn, and GROW. Check out our open roles!
---
The individuals featured are SoFi employees. Their personal experiences, obviously, do not take into account your own specific objectives, financial situation, and needs. Results will vary.