The objective of SoFi's new mentorship program, Grow, is to develop the company's underrepresented minorities through professional mentorship by giving future leaders real-time feedback, active coaching, key business knowledge and advocacy to support their professional journeys. Today, we're talking with two rising stars at SoFi — Krupa Adusumilli and Vinicius Pinheiro — who participate in the Grow program, Krupa as a mentee and Vinicius as a mentor.
They're sharing their career journeys to SoFi and what it means to be a part of this career development initiative.
Before we get into talking about the value of mentorship, we have a very important question for you both — would you rather have a constant supply of coffee or snacks at your office?
Krupa: 10000% snacks. SoFi's San Francisco office has a ton of snacks, including guilty pleasures and healthy options. I actually don't drink coffee at all which people find weird because I made it through investment banking without any caffeine. Anyone who has been in that world knows the hours and the travel make coffee a must for most.
Vinicius: Can I add more 0s to Krupa's answer? I have gained some pounds during my visits to the San Francisco office.
Now that we know your snack habits, can you talk us through your professional background?
Krupa: I was born in India and moved to the Bay Area when I was five months old. I went to undergrad at UC Berkeley and achieved a double major in Business Administration and Economics. My first job out of college was with Goldman Sachs in the Investment Banking division. From there I transitioned to a Business Operations role at SoFi supporting our Money and Credit Card businesses, and a year later had the opportunity to move into a Business Operations Manager role on our Invest team.
(You can learn more about our new SoFi credit card here and our IPO Investing offering here.)
Vinicius: I was born in Brazil and started my career in the software development area as a Computer Engineer. I quickly moved to the financial services market at Citibank Brazil, working in Risk Management and eventually leading risk strategy for multiple lending products. In 2011, I moved to Toyota Financial Services and was responsible for creating the company's risk function. In 2015, my family and I moved to the U.S., staying one year in the Los Angeles area before moving to the Dallas-Fort Worth area, where I live today, and work at SoFi as Vice President, Enterprise Risk Management.
Tell us about what you do at SoFi.
Krupa: I work with the Invest product, which has given me the chance to learn many aspects of the product life cycle — from concept to design and testing to implementation. I like to learn and tackling different stages of the product life cycle helps me do that.
Vinicius: At SoFi, I lead the Enterprise Risk Management area. As we grow, the establishment of a robust risk governance area is crucial, so my role is always evolving and challenging me.
You both participate in the Grow Mentorship Program. How would you describe this program, in your own words?
Krupa: Grow is a manifestation of SoFi's desire to double down on its commitment to employees and create paths for personal and professional growth and development. Grow provides an opportunity for traditionally underrepresented minorities to gain exposure to more senior and tenured folks at the company to learn from in a safe environment.
Grow is a phenomenal initiative through which to find a mentor. Finding a mentor can be hard; I often worry that I am burdening someone by asking and I never want to force a relationship. I don't have to worry about that with Grow because I know that the mentors in this program are specifically interested in building this type of relationship.
Vinicius: To me, Grow provides motivation and helps us avoid being in our comfort zones. I enjoy being a mentor because I get to know, interact, and learn with great people. I learn from the brilliant generations that are replacing mine, who positively impact my daily job functions. I also appreciate the opportunity to interact with new points of view from different areas across the business. I have benefited from great opportunities in my career thanks to having great mentors and my goal is to bring to my mentee at least a portion of what I learned with my mentors in the past.
Krupa — what skills do you hope to gain from this experience?
Krupa: I hope to learn how to gracefully have difficult conversations, negotiate, and be an empathic listener and leader. I also want to learn how to balance my personal and professional lives and to reconcile my evolving professional interests. I don't expect a step-by-step guide on any of these items, but I'd love to bounce ideas off someone who may have had similar experiences.
Can you walk us through how the Grow program works and how you grow your relationship?
Krupa: Vinicius and I meet once a month and I take what I learned from Vinicus and apply it in the real world. For example, if I'm not sure how to tell my manager that I want to get involved in a new project, Vinicus will share suggestions for how I can frame that discussion with my manager. He might also share stories from his own experiences where he had to deal with something similar.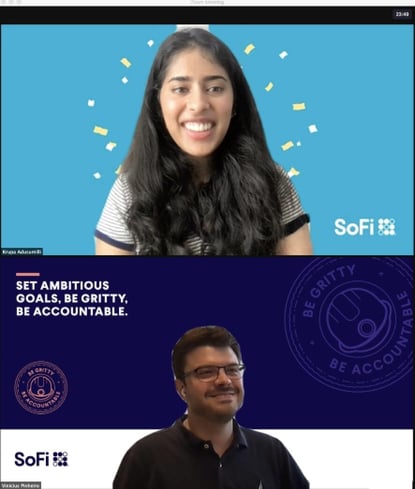 (Photo above is of Krupa and Vinicius on a monthly Zoom meeting)
What advice would you give to others who are looking to grow their career at SoFi (or at another tech company)?
Krupa: If you come into work with a positive attitude, care about our members, truly believe in our mission, and are brave enough to try new things, the opportunities are endless.
Vinicius: SoFi surprises me every day with the pace and execution of great and ambitious projects. It is amazing what this team can accomplish and it feels rewarding to be part of it. It's the perfect scenario to be in and learn if you want to grow fast.
Vinicius — what advice do you have for other leaders looking to mentor, either casually or through the Grow program?
Vinicius: Mentorship programs are one of the experiences that never disappoint me, whether I'm a mentor or a mentee. It is a pleasure to meet other people, help and be helped, step out of our daily activities, and share experiences (both good and bad).
To close out our interview, will you humor us with a quick round of "would you rather" — coworker edition? Would you rather bike or drive to work?
Krupa: Bike 100%, because it's more sustainable and because I suck at driving, especially in San Francisco.
Vinicius: I have a Harley and I would rather RIDE.
Would you rather work 80 hours one week and have the next week off or work 40 hours for the week for two weeks?
Krupa: I think I would prefer the 80 hours a week option with a whole week off because I love to travel, so I would use that week off to hop on a plane somewhere. But I think when I have a family, that may change to the 40 hours a week option so that everything is a bit more balanced.
Vinicius: Either one. However, I'm not sure if my wife would love the 80 hour option.
---
Thank you both so much for sharing your career journeys with us and for shedding some light on what the Grow Mentorship Program looks like at SoFi!
---
---
The individuals featured are SoFi employees. Their personal experiences, obviously, do not take into account your own specific objectives, financial situation, and needs. Results will vary.
No other brands or products mentioned are affiliated with SoFi, nor do they endorse or sponsor this offer. Third party trademarks referenced herein are property of their respective owners.
Investment Products: ARE NOT FDIC INSURED • ARE NOT BANK GUARANTEED • MAY LOSE VALUE
Loans originated by SoFi Bank, N.A., NMLS #696891, or by SoFi Lending Corp. CFL #6054612, NMLS #1121636 (www.nmlsconsumeraccess.org). Equal Housing Lender. Advisory services are offered through SoFi Wealth LLC, an SEC-Registered Investment Adviser. Brokerage products and SoFi Money® are offered through SoFi Securities LLC, member FINRA/SIPC. The SoFi Credit Card is issued by The Bank of Missouri (TBOM) ("Issuer") pursuant to license by Mastercard® International Incorporated and can be used everywhere Mastercard is accepted. Mastercard is a registered trademark, and the circles design is a trademark of Mastercard International Incorporated. Additional terms, conditions, and state restrictions apply; see SoFi.com/eligibility for details. SoFi Bank, N.A., Member FDIC. 2750 E. Cottonwood Parkway #300 Cottonwood Heights, UT 84121. Information as of July 2022 and is subject to change. BR21-416350
©2022 Social Finance, Inc. All rights reserved.