Lindsey Criveller has grit. She possesses courage and resolve, never shying away from an opportunity to challenge herself.This working mom is a true force to be reckoned with — at home and on the job as an Operations Manager for our Review team (more on what that means later). Today, she's getting real with us and sharing what led her to SoFi, how to succeed in Operations, and ultimately what keeps her here.
We're excited to get to know you better, Lindsey. Before we kick it off, can you share three things others may not know about you?
Lindsey:
Before starting my MBA, I self-financed a backpacking trip through Europe for 5.5 months, visiting the UK, Spain, Portugal, Morocco, France, Italy and the Netherlands.
During my Graduate studies, I worked three jobs — including one with a local artisan producer of traditional Italian inspired salumi — making prosciutto, capocollo, lonza, pancetta, and guanciale.
I have a brown belt in Wadō-ryū karate. This is the last level before earning my first degree black belt!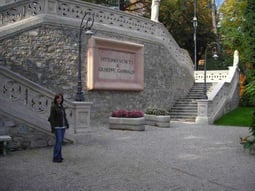 (Photo: Lindsey in Spain)

Wow - you are a true renaissance woman! Tell us a little about your life before SoFi.

Lindsey: I was born and raised in Niagara Falls, Ontario, Canada. After completing my MBA from Niagara University in Lewiston, NY, I was offered a one-year work visa to work in the United States. I jumped at the opportunity and moved to Sonoma County, California in June 2010. My first job was as an Office Assistant/Paralegal for a boutique law firm that specializes in Workers' Compensation. I then landed a position as an Assistant Store Manager with Target. I was a part of the original leadership team of the San Rafael location that hired, trained and managed 350+ employees.

What inspired you to join SoFi?

Lindsey: I was fortunate enough to spend the first year of my son's life with him at home, which is what ultimately ended my career at Target. It was a great company to work for and I learned a TON in the process of opening up a new store. About a month before I was planning on returning to the workforce, I was perusing Craigslist and came across an opening for a Manager at SoFi (with a job fair the very next day)! So, I updated my resume, asked a friend to babysit, and off I went. I ended up spending more than four hours meeting with managers, talking and learning about SoFi, and becoming completely obsessed with the company. I was incredibly excited when I was offered a job the very next day!

You've been at SoFi for five-and-a-half years across a variety of roles. Tell us more about your career path here.

Lindsey: I've held four positions during my time at SoFi - starting as an Associates Manager, to leading a team of Communications agents, then as the Manager of the Verification of Employment (VOE) team before landing in my current role as an Operations Manager of Review, overseeing teams that process loan applications for Personal Loans, Student Loans and Private Student Loans. My team of Associate Managers is responsible for coaching and developing their teams to deliver excellent member service while facilitating loan closure. I also help to drive continued improvements through implementing processes and procedures that increase efficiency and reduce errors.

Being able to work for (and with) strong, inspiring leaders and network cross-functionally has been a huge contributor to my growth at SoFi. Offering programs such as the Grow Mentorship Program, SoFi Circles (what we call Employee Resource Groups) and internal panels have all contributed to my development. SoFi continues to develop and implement programs for employees to explore, learn and share. Clearly defined career pathing programs are increasing, which provides a path for movements into areas of the business that were never there before and allow employees to really hone their craft - what they are passionate about. SoFi has always been willing and open to teach, if you are open to learn.

Sound advice, Lindsey. I hope you can agree that before looking to the next role, our employees really have to excel in their current role. What makes someone successful in Ops at SoFi?

Lindsey: First and foremost, someone who is passionate about our members — they are why we are here! Additionally, I'm looking for someone who has a keen eye for detail and who is willing to challenge the status quo. Some of our best initiatives/enhancements have come from our agents...those that want to improve the process, not just internally but for our members. Flexibility and hard work are other characteristics that help drive success in Ops.

How do these characteristics translate in the competencies you look for when you hire?

Lindsey: I am looking for candidates who demonstrate our values, but are also able to execute on the job itself — which requires attention to detail, flexibility, strong customer service skills and the ability to perform under pressure. Lastly, I'm seeking to find candidates who are confident and express a desire to learn, grow and improve SoFi.

I'm glad you brought up our values; they are our guiding principles for how we think about serving our members, building our company, and most importantly, how we work together. What value resonates with you the most, why?

Lindsey: Take care of other people and help them grow. I've been very fortunate to promote many team members over the past 5+ years. Being able to advocate for and witness others' growth and help them realize their strengths is incredibly rewarding. It's hard to explain how amazing that makes me feel.

You mentioned earlier that strong leadership is one of the reasons you are still at SoFi. What is your leadership philosophy?

Lindsey: Leadership is about inspiring and encouraging others every step of the way. It's about building a positive environment where employees can thrive and use the skills to the best of their ability. It's about motivating others and providing them with the confidence they need to see their full potential. As a leader, it's important to be considerate of others' feelings and use everyone's passion for good. I value the opinion of others, respect their beliefs and listen to their concerns with an open mind. I care about leading with heart and using my leadership platform to cultivate a positive place for growth. Ultimately, leadership is about being a strong leader yourself that others can depend on.

SoFi is lucky to have leaders like you, Lindsey! You've had an incredible career so far, but I'm sure there have been some obstacles, too. What's the biggest challenge you've overcome in your career?

Lindsey: Okay, I'm going to get real. Within the first six weeks of my employment at SoFi, I experienced a big personal shift in my life...a divorce. At the time, my support resources were fairly limited as I became a single mother of a one-year old. Over the year that followed, I learned some important takeaways:
Be comfortable asking for help — most people are willing and able!
Control your controllables. While outside of work, life felt out of my control; at work, I was IN control. I could control how I showed up, how I performed, and how I lead/inspired every day. I had one of the strongest performing years of my career during one of the most difficult times in my life by shifting my focus and energy.
Obstacles only have as much power as we give them. Things are not always going to go your way, and you cannot control that. But you can control how you react in those situations, what you learn from them and how you will move past them.
Thank you for sharing such a personal experience with us. Your tips to dealing with adversity is something we can all relate to. One last piece of advice for us - as a full time manager (and mom), how do you balance work and life?
Lindsey: Do I? :) It's very important to set boundaries. Have your non-negotiables, and then be clear about them — whether it's to be home every night for dinner, to walk your dog, or never miss a child's game/event, etc. Whatever they may be, identify them, communicate them, and stick to them. What that means is when you are "on," you are truly "on." Be as productive and efficient with that time as you can, so that you can take the time that you need to be present in other areas of your life. It may take practice, and is easier said than done, but boundaries are important and something I have learned over the years to keep me present and happy.
Thank you for sharing your perspective, advice, and getting personal with us today! We are sincerely grateful!
---
The individual featured is a SoFi employee. Their personal experiences, obviously, do not take into account your own specific objectives, financial situation, and needs. Results will vary.
©2021 Social Finance, Inc. All rights reserved.