It's well-known at this point that the COVID-19 pandemic has changed how we live and work - as well as how these two worlds intersect. Although this devastating virus has affected us all, "perhaps no group has had to bear the burden more heavily than working women", says Forbes contributor Gabby Shacknai. While challenges abound, one thing that remains clear is the need for supportive workplaces that recognize the diverse needs of all employees - that's why we prioritize meeting these needs for all SoFi employees.
Meet Senior Director, Talent Acquisition at SoFi - Ashley Core - who is here to share how she approaches balancing having a successful career and starting a family.
Start by telling us your title and how long you've been at SoFi.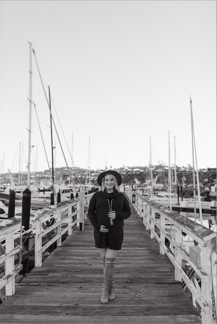 Ashley: I'm the Senior Director of Talent Acquisition at SoFi. I've been here since April 2019.
You just got promoted to Senior Director. Congratulations! AND you are eight months pregnant with your first baby. Tell us about how it's been to balance work and life during such a monumental time in your life?
Ashley: Work/life balance hasn't always been in my wheelhouse - I love working and it is easy to burn the midnight oil because there is always more you can be doing. I experienced self-induced pandemic burnout, and I decided I didn't want to live that way any longer. I am sincerely grateful for my current manager, Ana Recio, who recognized the signs of burnout and has been a work/life role model for me as a mother and an executive. She effectively fits working out and cooking for her family into every week day, and she takes time off throughout the year and champions the same for our team.
I also knew I needed to address the root cause with the professional help of my therapist. I spent a few months resetting from burnout, and then spent the better part of a year building habits and boundaries that later enabled me to have a healthy pregnancy in my late 30s.
Some practices that have really helped, which working for a company like SoFi has allowed me to consistently enforce:
I defined working hours for myself in which I answer emails and Slacks, and made them known to everyone at SoFi that I partner with. I also don't email others outside of this time (I use the "send later" feature in Gmail and Slack on the occasions I have a flexible working day and find myself composing after hours).
I take advantage of SoFi's unlimited PTO benefit to take meaningful time off every quarter, and additionally, will sometimes just take a random Friday for myself to recharge. Part of being focused is also resting your brain and body, so I make sure my time off is geared toward what nourishes me.
I work a healthy, non-work habit into my work week with support from my boss. I have a horse and ride regularly, but I was a weekend warrior in terms of riding before COVID. Now, I see him twice during the work week, every Wednesday and Friday from 8:15-9:30am. My team, clients, and manager know that I don't get home until 10am on those days and respect my time away. During my pregnancy, this practice centered me and gave me happiness boosts throughout the week, even though I spend more time with him on the ground these days! I feel extremely lucky to work at a company like SoFi that encourages me to prioritize my overall wellbeing.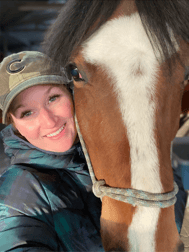 Photo: Ashley and her 'first born son', Emmitt
What advice would you give to others who want to start a family AND grow their careers?
Ashley: In other life stages, I had a lot of fear around being pregnant and going out on leave. I have managed many teams over the years, and I was insecure about someone taking my role while I was out, or about leaving everyone in a lurch and coming back to a disaster.
When I made the decision to join SoFi three years ago, my husband and I were dating, but had discussed marriage and kids as something we'd consider in the next few years. Knowing this, I approached my SoFi interviews with the lens of, "does this environment feel supportive to starting a family?" Anna Avalos (our Chief People Officer) sold me in our first conversation when she told me about being a young mother who grew her career while remaining dedicated to her daughter. It was very clear that she understood that working moms need flexibility to be successful, as she attributed her growth to the support she received as a mom from her employer at the time.
I would advise anyone seeking a new job within five years of their plan to have kids who have the opportunity to be critical about their next move to kick the tires on what the culture is around working parents. What benefits are offered for working parents? Does the company have an Employee Resource Group for parents? Do the leaders you'll be reporting into have genuine answers when you ask about balancing work and life?
If you are currently in a role and environment that you feel is supportive, congratulations! Know that growing your family will only serve to expand you as a person. When I look back at managing a physically-tough pregnancy these past nine months, I see that this time only served to really ensure that I leveraged all the balancing skills I learned in a new way as I incorporated more rest into my work days. I plan to only expand upon this experience as a working mother.
What gets you out of bed in the morning?
Ashley: I am invigorated by growth, both personal and at the company level. I joined SoFi in 2019, when we had three lending products. Now, in 2022, we have expanded our B2C offerings to include every imaginable aspect of personal finance (Invest, Money, Credit Card...the list goes on). We joined the B2B space when we acquired Galileo in 2020 and Technisys this year, both of which empower other companies in the finance space to grow and expand their own offerings. As a recruiting professional at SoFi - it is literally impossible to be bored pitching our offerings because there are so many different roles and products to talk about!
In addition to being stoked about where SoFi is headed, I am extremely thrilled with where my team is as I go out on leave. Our Talent Acquisition organization has more than doubled in size since I started. We have a wonderful group of folks that share the desire to truly partner with both candidates and managers to find the best people for our open roles. We are building a strategic hiring organization that asks every person on the team to be the CEO of their own desk. In order to do that, we need people that are open to growth, feedback, and trying new things...and seeing the team embrace being uncomfortable has been extremely rewarding. I can't wait to come back in a few months to see how much everyone has developed!
You are a truly inspiring leader and an amazing mentor to so many people at SoFi. We at SoFi are excited to be a part of this new exciting chapter in your life.
And…we're hiring! Come help us become a top ten financial institution and change the way people think about, and interact with personal finance.
---
The individual featured is a SoFi employee. Their personal experiences, obviously, do not take into account your own specific objectives, financial situation, and needs. Results will vary.
INVESTMENTS ARE NOT FDIC INSURED • ARE NOT BANK GUARANTEED • MAY LOSE VALUE
Terms and conditions apply. SoFi Checking and Savings offered by SoFi Bank, N.A. Loans originated by SoFi Bank, N.A., NMLS #696891, or by SoFi Lending Corp. CFL #6054612, NMLS #1121636 (www.nmlsconsumeraccess.org). Equal Housing Lender. Brokerage products offered through SoFi Securities LLC, member FINRA/SIPC. SoFi Money® is a cash management account, which is a brokerage product. SoFi Securities LLC is an affiliate of SoFi Bank, N.A. Advisory services are offered through SoFi Wealth LLC, an SEC-Registered Investment Adviser. The SoFi Credit Card is issued by The Bank of Missouri (TBOM) ("Issuer") pursuant to license by Mastercard® International Incorporated and can be used everywhere Mastercard is accepted. SoFi Bank, N.A. Member FDIC. 2189219