It's no secret that working as a Mortgage Loan Originator (MLO) can come with some long hours and hectic days. After spending 10 years as an MLO, Brylan Madderra decided to take a year off to live in Costa Rica, with a plan to leave his days in the industry behind him. But once he learned what type of opportunities and benefits SoFi had to offer MLOs, his entire outlook changed.
We spoke with Brylan about his experience at SoFi and other companies in this SoFi-ety spotlight!
Before we dive into your work passions, tell us where your passions lie outside of work?
Brylan: Alongside spending as much time as possible with my wife and kids, I love sports and coaching. I just rewatched the series Friday Night Lights because it's the best show ever, especially for sports fans.
What are three fun facts that others may not know about you?
Brylan: I used to own a racehorse named Ingenuity. I once ran a triathlon with no training 30 days after losing a bar bet. I'm also a serial entrepreneur, so if anyone has any great business ideas, call me!
Can you tell us where you grew up and how you got into the mortgage business?
Brylan: I grew up in Irving, Texas and I played baseball in college at Mid America University in Oklahoma. I love everything about Texas, the weather, people, diversity of culture, and sports teams are great benefits. My family is close by, too. In short — Texas Forever!
I wanted to be a high school coach full-time, but found myself in the telecom industry before being laid off from Worldcom during their scandal. I then made a switch to the financial world, working at Bank of America for seven years where eventually I took on a role as a MLO.
What first attracted you to SoFi and why did you decide to join the team?
Brylan: I was living in Costa Rica with my family while taking a year off from work and a friend who worked at SoFi raved about his experience at the company. He explained how the culture and the energy was what I had been searching for.
When we came back to the States, I began researching SoFi and was impressed with what I found, so I applied for a role. Everyone seemed happy and the startup energy was exciting. I didn't land the first job I applied for, but a bit down the road, SoFi took a chance on me after my friend recommended me. Joining SoFi was the best decision I ever made career-wise.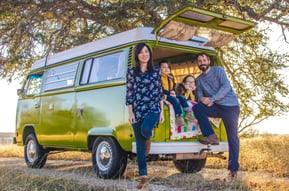 (Photo: Brylan and his beautiful family)
What are the most challenging aspects about your job?
Brylan: The most challenging aspect is definitely the high-volume sales environment. Dealing with an upset borrower can also be challenging and the workload is heavy if you want to be successful.
However, if you have a company and team around you to help alleviate some of the stress that inevitably comes with this role, then it can be the most rewarding career there is. We can save members thousands of dollars and change people's lives every day. Not to mention, we're getting paid to do it. That is the epitome of rewarding!
I think SoFi does a good job taking care of their employees with comprehensive benefits and perks plus events outside of the office. Since the COVID-19 pandemic, the company has initiated "SoFridays" where all employees are encouraged to sign off early on Friday afternoons and we have a very supportive work environment. All of these things — and more — go a long way to alleviate the day to day stress of the job.
In your opinion, what makes someone successful as an MLO at SoFi?
Brylan: To be successful, you need to be able to manage a large pipeline because we get fed an incredible amount of top notch leads. That's a good problem to have and if you are organized, focused, and have the dedication to close those leads, then you are going to exceed your sales goals. And you'll get to feel like you are a part of something special and different! We're helping millions of people Get Their Money Right.
New team members have to put in the hours and stay focused if they want to succeed. They'll need to be organized and be prepared to handle having hundreds of leads in their pipeline.
What sets SoFi apart from other home loan businesses?
Brylan: The leadership is what sets SoFi apart from other industry players. They care about their team, give them access to fair opportunities, and always step up to help us solve problems. Plus, we have a remarkable marketing team that brings us some of the best leads in the business and SoFi's range of products is seriously impressive.
On a personal level, the benefits and perks are out of this world. I'm not used to getting a lunch card or having managers visit to hand out gift bags in elf costumes.
If there was one thing you would want people to know about SoFi as an employer, what would it be?
Brylan: At most places I've worked, I've just chased the next paycheck and was not truly happy. SoFi is different. I have grown professionally because I'm happy - I respect my managers and truly believe in the SoFi brand. I really do love being an originator, but I needed to be working at the right company to realize that.
I like to compare my career experience to that of a player that moves to a new team and thrives because of a different coach, scheme, or locker room. SoFi was the team I needed. They treat their MLOs with the respect that our hard work deserves and they make you feel like SoFi's success is directly related to you.
Thank you (Coach) Brylan for being so open about your experience working as an MLO and for sharing how SoFi has changed the trajectory of your career.
---
---
The individual featured is a SoFi employee. Their personal experiences, obviously, do not take into account your own specific objectives, financial situation, and needs. Results will vary.
©2021 Social Finance, Inc. All rights reserved.