Today kicks off Black History Month in the United States, a time when communities come together to honor and pay tribute to the contributions of the Black community. Here at SoFi, we are gearing up for a month of programming, events, volunteering, and more –all spearheaded by SoulFi, our Employee Resource Group (called Circles internally) dedicated to supporting the Black communities and allies at SoFi.
We sat down with SoulFi Co-Leads, Hamaria Crockett and Adrian Carn, to learn more about how they are helping prepare SoFi Circle members and allies for the month ahead, as well as the rest of 2022.
Here's a special welcome to Black History Month from Hamaria, check it out!
First tell us your name, what you do at SoFi, and why you joined!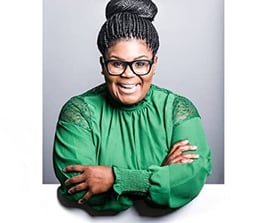 Hamaria: I am the director of learning and development here at SoFi and I joined because the organization aligns with the things that I love. I enjoy helping people learn new things, watching them enjoy what they do, and of course - growing their careers!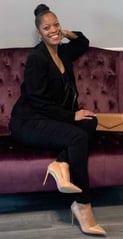 Adrian: I am the site leader for our Claymont, Delaware office (Readers - you can find more information about this office and others here). I joined SoFi because I heard great things about the culture here, and I wanted to be a part of something that was making a positive impact in people's lives.
What is SoulFi's mission?
Both: SoulFi's mission is to empower Black and African-American employees, Circle members, and allies to create a more diverse and inclusive SoFi.
SoulFi's theme for Black History Month is all around Black wellness, so we'll focus on the emotional, physical, social and spiritual health of our SoulFi members, allies, and the greater SoFi community. What does Black wellness mean to you?
Hamaria: Sometimes we put buzz words out in the workplace. We assume that everyone understands what they mean, but it all comes down to an individual. Wellness is a combination of your health, wealth, mindset, the list can go on and on. When I think of wellness, I think of days where I'm not stressed to respond to every email before the end of the day. I think of taking a breather in the middle of the day to clear my mind. I think of feeling that the walls of life aren't closing in. I think of being a person of color in a corporate setting where I don't have to work 5x longer and harder to be in competition with my colleagues.
Adrian: Black wellness to me means being holistically healthy and unapologetically proud of who you are as a person of color.
What does SoulFi have planned this month to educate, inform, and inspire SoulFi members and allies?
Hamaria: We're proud to be partnering with The Pajama Program, a non-profit organization whose mission is to promote and support a comforting bedtime routine and healthy sleep for all children to help them thrive. Through our partnership, we will be choosing a Black author and SoulFi members will record readings for their library. These videos will be available to children via schools and foster care homes in locations where SoFi has offices. And in our Jacksonville office, we'll read a book together. We are truly committed to supporting our local communities, and this partnership is one way to show that.
Adrian: We're kicking off the month with a Racial Equity Challenge, which is a powerful opportunity for all SoFi employees to develop a deeper understanding of how inequity and racism affect our lives and our community. The challenge is designed to provide participants with weekly tasks via email that include activities such as reading an article, listening to a podcast, and reflecting on personal experiences. By addressing issues of race, power, privilege, and leadership, we can connect with others to identify ways to dismantle racism and other forms of discrimination.
Some of our other events for SoulFi members include Black Jeopardy and swag boxes of wellness products from Black-owned businesses. We will also host an event with diversity educator, Jane Elliott, and SoFi partner Modern Health will be leading a session for SoulFi members and allies called "Allies in Solidarity with the Black Community".
Anything specific that SoulFi is focused on throughout the year to support the Black community at SoFi?
Hamaria: One of our core values at SoFi is "get to the truth and make principle-based decisions", which is a fancy way of saying we're obsessed with data. So, we are putting that value into action for SoulFi - we just launched a survey so we can gain a pulse on what our members want. As we look at those results, we will be implementing year-long programming accordingly.
Adrian: I agree with Hamaria; I'm just excited about the direction SoulFi is going as we promote self-awareness and overall self-care throughout the year.
To learn more about SoFi Circles, visit our Diversity, Equity and Inclusion site.
Plus, readers stay tuned for a follow up blog that will recap Black History Month at SoFi, and give you the chance to get to know some of our SoulFi members.
---
The individuals featured are SoFi employees. Their personal experiences, obviously, do not take into account your own specific objectives, financial situation, and needs. Results will vary.